Plastic doesn't have the best reputation – with plastic soups polluting our oceans and one fifth of all plastic waste ending up in illegal dump locations – or even in nature. Plus the growing number of people on this planet and the increased wealth, plastic waste is expected to triple by 2060. Sounds pretty bad, right? The bright side is that, when used properly and in a circular way, plastic contains everything you need and can serve as a sustainable source for production. It is strong, lightweight, affordable and can be transformed into any shape you want. However, we need to make sure the plastics we use are high quality, recycled and part of a closed loop system. Not an easy task at all but we are committed to making it a reality. Don't be square, be circular!
In early 2021, the EEA published a report on plastics and the circular economy. They highlighted significant impacts that plastics have on the environment, but also the essential role that plastics play in our society and how we need to adapt to a more sustainable plastics system. Achieving this circular sustainable system is what we are committed to at Swapfiets. We do this by extending the plastic parts lifetime – through reuse, repair and efficient recycling, and avoiding single-use plastic and packaging where possible.
"Today, plastics are too often used as single use products, then discarded, then too often littered. The current linear models of production and consumption of plastics are failing nature and our economy at the same time, which is why we need a circular plastics economy. Reducing the environmental and climate impacts of plastics, while retaining the usefulness of plastics in society, requires making the systems of plastic consumption and production more circular."

European Environment Agency (2021) Plastics, the circular economy and Europe′s environment – A priority for action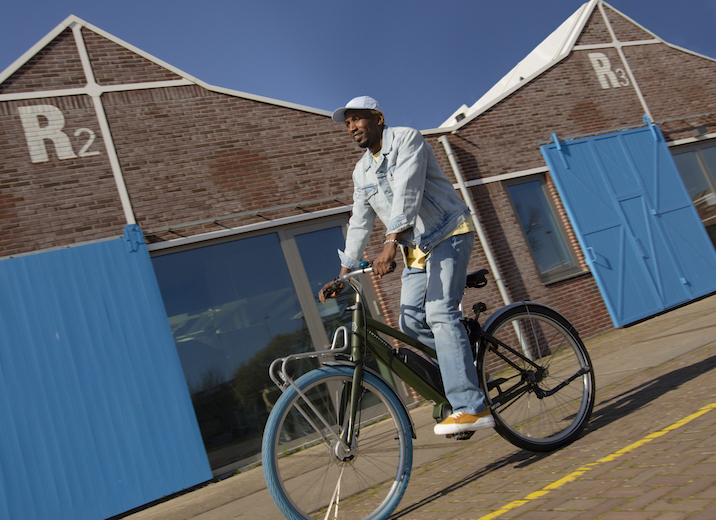 Riding to the future.
"According to the Dutch government, companies need to be operating 100% circular by 2050. At Swapfiets we've set the goal to develop a 100% circular product line by 2025, where all elements on the bike will be fully circular. With every bike consisting of around 180 to 200 parts – of which around 40% is made from plastic – this can be quite the challenge. But! By teaming up with the industry and our suppliers we aim to speed up the process and push for high quality regrind plastics in the entire production chain."

Richard Burger, Founder Swapfiets and our Director of Sustainability.
Innovative Plastics.
To reach a fully circular product line by 2025 we are looking at e.v.e.r.y. single detail in order to optimise the materials we use in our bikes. This means we eliminate unnecessary elements and try to incorporate innovative materials where possible – such as regrind plastic which is made from recycled plastics, and has a long-lasting lifetime. Because we offer our products as a service, we are in the position to keep plastic items in our loop (and out of the environment), so when this plastic is no longer repairable we can return this to our manufacturer, ensuring a closed loop!
The new battery case for our E-Bikes is the first element where we make use of this regrind plastic. The case is developed especially for Swapfiets, in collaboration with our manufacturer Timmerije. The goal is to add more and more regrind plastic elements to our bikes in the coming years. More plastic? Yes, you've read that well. High quality leftover recycled plastic, that is. Because, plastic can actually be very beneficial in optimising the sustainability of our bikes. By adding regrind plastic to our bikes, we can replace the metal parts – that do not need to carry heavy loads. This plastic has a much lower climate impact than metal and by using regrind plastic in a closed loop we don't let this useful material go to waste. Step by step we are looking into how we can replace all current plastic parts by regrind plastics and eliminate as many metal parts as possible.
Our newest E-bike design for example, will have twice as much (regrind) plastic parts, replacing metal parts. Next to the lower climate impact, this also increases the lifetime of the frame and it will make the bike more repairable – which will eventually also extend the lifetime of the bike. A triple win!
When used effectively and the end of life already accounted for, plastic has great benefits. But we also understand the negative impact that plastic is having on the global ecosystem, when used in a linear fashion. Therefore, we are also looking into how we can reduce the overall plastics in our packaging. Currently we have already reduced our plastic waste – covering the bikes coming from our warehouse for protection – by 80%. Nice extra: this also saves space in our trucks for transport, which allows us to fit more bikes in one go. Read; more efficient transport = less emissions.
Together We Can Move Mountains.
We have to be honest. It's not all rainbows and unicorns (yet) when it comes to plastic and how we use it at Swapfiets. There are still some roadblocks to overcome. For some parts of the bike, we are dependent on our suppliers and the materials they use. In collaboration with our suppliers, we are looking for more sustainable solutions for their existing products or come up with a completely new design for a specific element together. However, often we are also dependent on our suppliers' production processes. For elements such as the saddle, the kickstand, light modules and (E-bike) displays we are dependent on standard models available in the market. These often contain virgin plastic and are difficult to recycle since elements are glued together.Which, unfortunately, results in products ending up in mixed waste bins instead of high-quality recycling processes.
To really make a change, we strongly believe in co-creation with our manufacturers. And by collaborating with other bike brands, we can use our collective bargaining power to ask for this much needed change in the industry. On top of that we need to actively keep pushing legislation for rules that mandate sustainable production processes.