Swapfiets has an ambitious new goal: to achieve a 100% circular product line by 2025.
We haven't reached this goal yet, but we know what needs to be done to make it happen.
With this blog, we invite you to join us on our journey to achieve this remarkable goal. You'll learn more about our ambition, the process and steps we're taking to get there.
Ready? Let's go!
→ Swapfiets is searching for manufacturers of circular bicycle parts
The parts will be assessed with the use of the R-strategies. R-strategies are the 7 different ways to achieve circularity with a product. When we take a look at parts alongside the R-strategies, we want to include the inflow and outflow of the used materials, as well as the life cycle of the bicycle parts.
What materials are used?
What happens with the material at the end of life?
What is the entire life cycle of the product?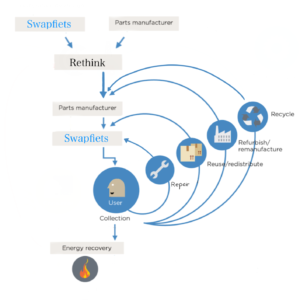 Swapfiets currently focuses on three main aspects of the circular economy:
Designing products and using parts that last, based on user data;
Reusing, repairing and remanufacturing as much as possible, and;
Recycling parts at the end of their technical life (in mono-material waste streams), with the aim to realise net-zero general waste.
Due to our unique business model (product as a service), we are in search of parts with the lowest TCO (total cost of ownership) possible. For this reason, parts with a longer life expectancy are worth more. For instance, a five euro part with a life expectancy of one year is more costly (and therefore more undesirable) than a ten euro part with a life expectancy of three years.
(Purchase cost (production) + life cycle cost (maintenance/service cost/storage) + disposal cost (service/storage)) / life expectancy (user count)
As well as parts being circular, we want to show to members (and the rest of the world!) that we're a responsible brand – by giving our bike a 'green' look, as well as communicating our sustainability initiatives and ethos.
In short, we need solutions in bicycle parts to reach our ambitious goal of a 100% circular in 2025. These are the principles we need to keep in mind:
Designed to last & easy to repair
Made from renewable or sustainable resources
Zero pollution anywhere in the entire life cycle
Zero waste anywhere in the entire life cycle
A sustainable 'green' look or story